In this installment, allow me to share what I omitted in this
bare all post:
my Gollum moment
. When the ring magically appeared on Person A's right hand, I only saw the bottom portion of the band. He put it on my left ring finger (again, while driving at 60-80 kph!) before I was able look at it.
And thus began my Gollum moment "Oh my gosh, ang ganda… at ang laki! … It's so me! " Let's try to get real here, the first two adjectives are very subjective; also, I have teeny-weeny ring finger (and hand for that matter) so whatever you put on it will come out really big. When I glanced at it again I told him, "It's so pretty. It is way beyond I dreamed my engagement ring to be!!!"
For a girl who says that her favorite color is white, chooses one focal accessory and makes the rest of her outfit a blank canvass, and always finds a way not to conform, it's no surprise that I do not gravitate towards round, brilliant diamonds. And for the longest time (maybe 4 years) I've mentioned to Person A that I favor emerald-cut, diamond. Luckily for me, Person A and I are on the same boat. In fact, he doesn't like anything that has surface facets, and the only diamond cut with minimal surface facet is the emerald-cut, hence he gave me one to commemorate our engagement. (Photo below from diamondsbylauren)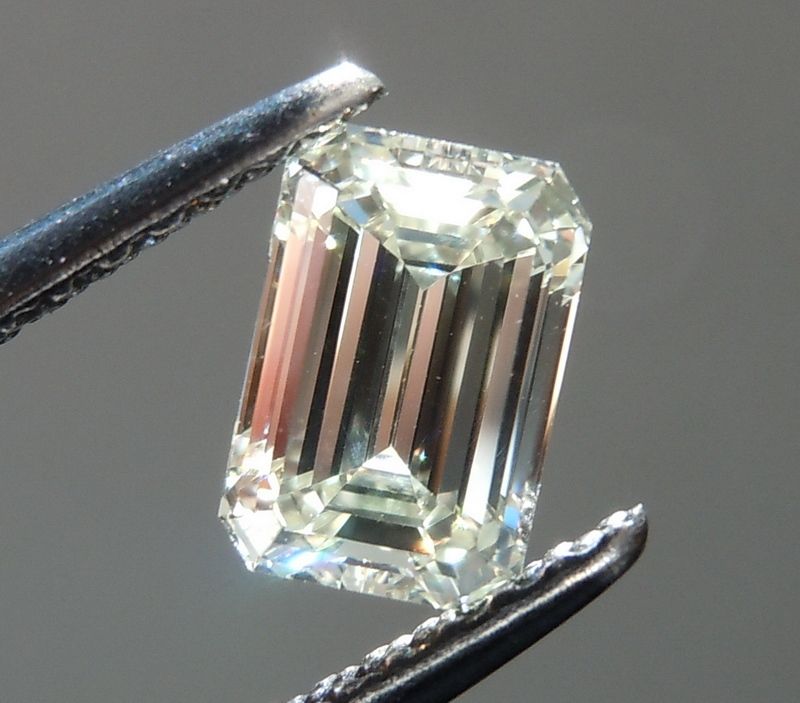 So the lesson here my dear girls, if you and your significant other are talking about engagement rings, please share with him what you want so he may consider it. If you are not comfortable doing that, you might have to rethink if you want to make a lifetime commitment because last I heard, you will share more personal information than your engagement ring preference when you get married.
It is important to note that Person A wanted to be a Geologist hence this explains why he dwelled into the technicalities of the stone he's shopping for. He can share some insights beyond the 4Cs such as fluorescence, culet, girdle, polish and symmetry. In this way, he knew that for an emerald-cut diamond, he will not sacrifice clarity, polish and proportion (he wanted an elongated stone).
Nakakahaba lang ng buhok na pinag-isipang mabuti!
Once he knew what he wanted to get, he corresponded with a jeweler and gave his specifications and budget. He was given some choices but felt that it's not quite there. By some twist of fate, a few days before his visit, the jeweler emailed him that he has a newly-cut stone that fits Person A's specifications to a tee. The only problem was he's not sure if the stone can be certified in time for his visit. Again, the universe was very kind and as written on the certificate, the stone was authenticated a day before he dropped by the jewelry store.
When he saw the stone, he knew that it is the one he was looking for. According to him, he tried to look at some oval-cut and radiant-cut ones but he found it too busy unlike the exquisite, long-lines of the emerald cut. The jeweler presented him with choices of bands and he initially thought of getting a solitaire setting. However, according to the jeweler, emerald cuts will only look good solitary if it's 4 carats and above.
Good luck na lang, wala na tayong kakainin, titirhan at sasakyan nyan at may sangkatutak ka pang utang!
He took the jeweler's advice and got a setting with two baguettes on the sides. He also thought of getting a band with pave diamonds but there's none in my size readily-available. They walked to a nearby jewelry shop, had the stone set on the ring and also had the band resized two sizes down. Everything was finished in an hour! It is also important to have the stone set by an experienced jeweler. The band was initially designed to be set with a round diamond and it came out like it was made for an emerald-cut one.
I am not comfortable posting a photo of my ring but here are some Hollywood stars who wear emerald-cut engagement rings. Apart from the famous Brangelina 3 emerald-cut diamonds which took a year to make and Beyonce's 18 carat emerald-cut stone that inspired "All The Single Ladies" and the line "If you liked then you should have put a ring on it", Kate Hudson rocks a 9-carat rock with half moon diamonds on the sides.
The one I have is much less than what they're rocking and I tell you, if I'll have their rings it will eat up not just my fingers but the rest of my hand! Here's Ellen Pompeo's ring
And Kristen Bell's fancy colored one.
Reese' Witherspoon's looks like an emerald cut but judging from the facets, it may be a radiant-cut diamond.
I really find the ring beautiful. It's not too small to be achoo-ed when I sneeze and not too big not to be worn daily. The stone is so clear while the 2 baguettes give a nice texture to the white gold band. It has a lot of character; there are angles that it's crystal clear, metallic gray and sometimes it reflects tiny specks of rainbows. Last week, I had a grand time bouncing off sunlight and making rainbows. Bored and stuck in Christmas traffic.
It looks so simple yet exquisite, classic, clean and timeless. I am grateful that Person A took the time to educate himself, save and choose the best ring he can give. However, unlike Gollum, I am not putting the ring as the most precious thing between the 2 of us because he is more dear than this carbon-and-gold package, the moments we are going to share will be much better and the life God will, hopefully, bless us in the years to come will be priceless.
As I always say, "Hindi naman ako mamahalin nito, eh".