When Jennifer Lawrence was chosen as the Hunger Game's Katniss Everdeen, there were numerous doubters.
For one, our heroine is supposed to be olive-skinned and has that tough-chick look.
And look what the producer has released: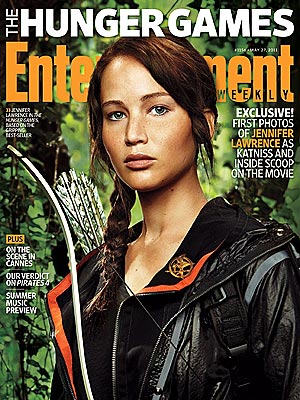 The first picture of Jennifer as Katniss Everdeen!
Doesn't this make you excited?
This image conveys that she can be the best archer and can survive an arena with the toughest living conditions.
Never in a second had I doubted that Jennifer can be the perfect Katniss. She has acted alongside veteran actors, has won an award at the Venice Film Festival and has received an Oscar's Best Actress nomination for her role in Winter's Bone.
They did not choose someone with her achievements for Harry Potter and Twilight. Just saying.
For those who aren't familiar with the Hunger Games trilogy,
it tells the story of sixtee
n-year-old
Katniss Everdeen
, who lives in a
post-apocalyptic
world in the country of
Panem
where North America once stood. This is where a powerful government working in a central city called the
Capitol
holds power. In the book, the Hunger Games are an annual televised event where the Capitol chooses one boy and one girl from each district to fight to the death. The Hunger Games exist to demonstrate not even children are beyond the reach of the Capitol's power.
The movie is set to be released in March 2012.
I'll be watching! -(",)-*wink*